23161 Greater Mack Avenue, St. Clair Shores, MI 48080
Is a prescription required for physical therapy or occupational therapy?
---
In January 2015, the laws in the State of Michigan were changed to allow for physical and occupational therapy without a physician's referral. There are guidelines, however, regarding the number of visits you may have without a presciption. While most insurances will not pay for physical or occupational therapy without a formal physician prescription, we do provide services to some individuals on a self-pay basis.
---
How do I CHOOSE a Physical & Occupational Therapy Clinic?
---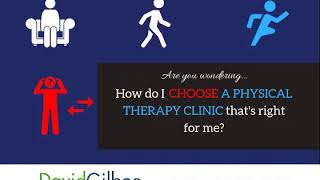 Check out this video to help you learn what questions to ask and what you should expect from your physical and/or occupational therapist.
---
Do you accept out-of-state physician referrals?
---
Yes, we do.
---
How long is a prescription valid?
---
Up to 30 days from the date of issue.
---
Will my insurance cover physical therapy?
---
You can see a list of the insurance providers we accept here. If you don't see your provider listed, please contact us. When you schedule your first appointment, our Care Team will verify your insurance to determine your coverage and provide you insight on what to expect.
---
Once my insurance does pay, how much will I owe?
---
The amount you pay depends on your insurance deductibles and co-pays. Our Care Team will be able to give you an estimate of your out-of-pocket expenses for your co-pays. You will want to check with your insurance provider to determine where you are on paying your deductible and how this will impact your costs for physical and/or occupational therapy.
---
If there is still a balance due, does your office set up payment plans?
---
Yes. Depending on the amount outstanding, we will divide the balance due into monthly payments. We determine your first payment date together and establish a formal Payment Agreement. This Agreement will be mailed to you for your signature and is to be returned with your first payment. As long as you make payments as agreed to, we will not take any delinquent action on your account.
---
If I am injured on the job, do you accept Worker's Comp?
---
Yes, we accept all types of Worker's Compensation. We require authorization from your employer before physical or occupational therapy begins. We can, however, schedule your initial evaluation for treatment.
---
How soon can I get an appointment?
---
We can usually schedule your initial appointment at a mutualy agreeable time within 48 to 72 hours after your call.
---
What will I need to have with me for my first appointment?
---
A signed prescription from your physician (if you have one), your driver's license, your insurance card(s) and appropriate attire (see next question). It is also helpful if you have your FORMS (here's a link) completed before your appointment.
---
What should I wear for therapy?
---
You should wear shorts or sweat pants, tennis shoes, and a loose fitting shirt. If you are having a shoulder evaluation, a tank top/sports bra is recommended. We have gowns and shorts if needed.
---
How long will my appointments last?
---
Your initial visit will likely last 1½ hours and the following visits will last 45 minutes to 1 hour.
---
How long will I be in therapy?
---
The duration of your therapy treatment is based on several factors; your diagnosis, the number of visits recommended by your physician and therapist, your attendance, and your rate of progression during therapy. Your insurance plan may only allow a specific number of treatments. Treatment can range from 2 to 12 weeks depending on these factors.
---
What is your cancellation policy?
---
Please call ahead to cancel or reschedule an appointment. Three missed appointments in a row without a call will result in your discharge from treatment.
---
Who do I contact about billing questions?
---
Please call us at 586.779.8892 or CONTACT Us here.
---
---